Soccer
SCHEDULE & SCOREBOARD - 2023
VARSITY ROSTER 2023
| | | | |
| --- | --- | --- | --- |
| # | PLAYER | POS. | CLASS |
| 3 | Michael Hudson | F | 12 |
| 5 | Riley Jacob  | MF | 12 |
| 6 | Jude Keller | MF | 11 |
| 7 | Quinn Copeland | MF | 11 |
| 8 | Ryan Klasner | MF | 12 |
| 9 | Caleb Thomeczek | MF | 12 |
| 10 | Justin Fears | F | 12 |
| 11 | Maicol Gonzalez | MF | 10 |
| 12 | Cameron Golike | F | 10 |
| 13 | Caleb Harties | D | 11 |
| 14 | Jack Pruitt | D/GK | 11 |
| 15 | Tyler Roth | F | 11 |
| 16 | Jhonatan Diaz | D | 12 |
| 17 | Carter Harties | D | 11 |
| 18 | Karson Morrissey | D | 11 |
| 19 | Scott Vickrey | D | 12 |
| 20 | Chris Hankins | MF | 10 |
| 21 | Logan Anderson | MF | 9 |
| 22 | TJ Elisaia | MF | 10 |
| 27 | Max Silver | D | 11 |
| 28 | Eli Baggio | MF | 9 |
| 99 | Will Fahnestock | GK | 11 |
JV ROSTER 2023
| | | | |
| --- | --- | --- | --- |
|   |   |   |   |
| # | PLAYER | POSITION | CLASS |
| 14 | Jack Pruitt | MF | 11 |
| 15 | Tyler Roth | F | 11 |
| 18 | Karson Morrissey | MF | 11 |
| 20 | Chris Hankins | MF | 10 |
| 21 | Logan Anderson | MF | 9 |
| 22 | T.J. Elisaia | MF | 9 |
| 28 | Eli Baggio | MF | 9 |
| 30 | Landon Weirich | MF | 9 |
| 34 | Ryan Hubert | D/GK | 9 |
| 36 | Chase DeRocchi | MF | 9 |
| 37 | Noah Zoellner | MF | 9 |
| 50 | Joey Wacker | MF | 9 |
| 51 | Dakota Nelson | F | 9 |
Marquette's Paniagua kept his eyes on the prize
Marquette's Paniagua kept his eyes on the prize

PREP YEAR IN REVIEW: Small Schools Boys Soccer Player of the Year Myles Paniagua, Marquette
Pete Hayes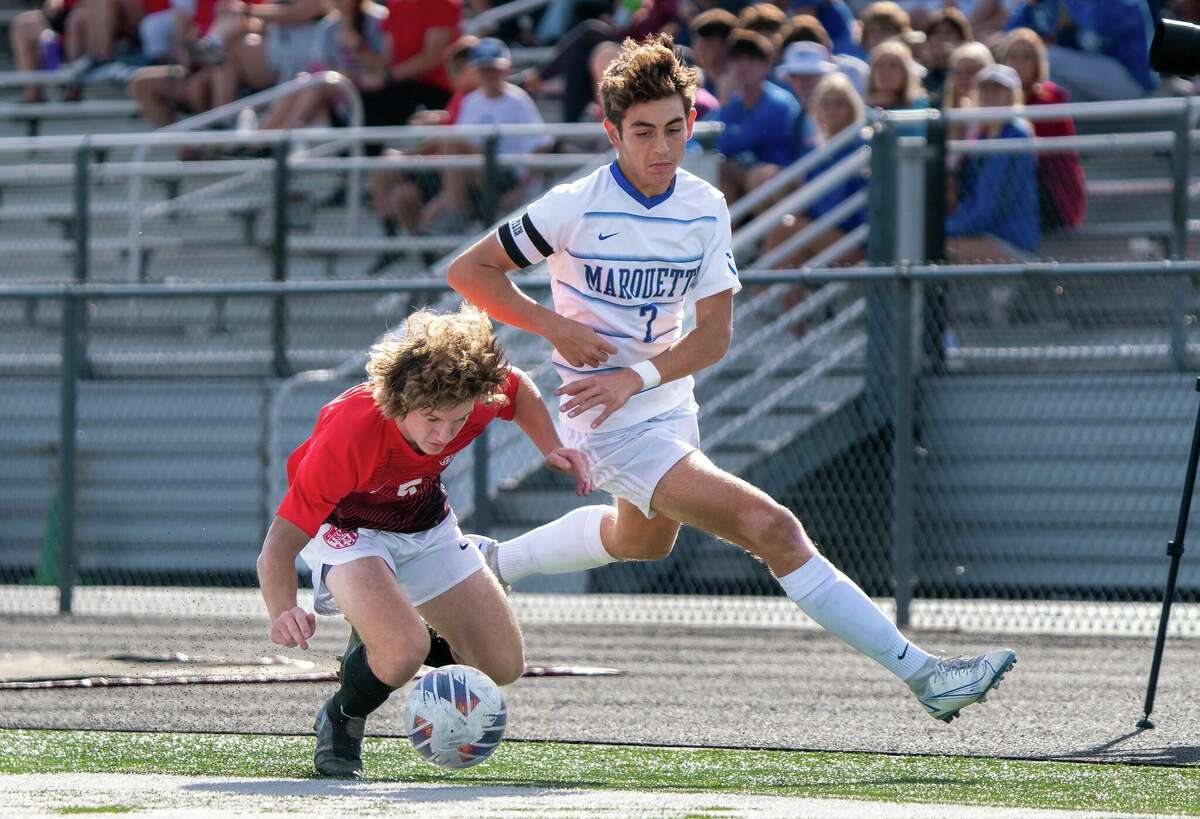 ALTON - Myles Paniagua has kept his eye on the prize. Perhaps it's because he saw the prize up-close early on. It's a trait that helped him become one of the area's most prolific goal scorers during his career at Marquette Catholic. It's also a trait that has helped him become the 2022-23 Telegraph Small School Boys Soccer Player of the Year.
Paniagua scored 35 goals and added 10 assists as a senior for the Explorers and helped lead them to a 17-6 record. "Scoring goals was my job as the forward," Paniagua said, "but none of those goals would have happened without my teammates."I really tried to focus more on moving off the ball and creating space for me or someone else to run into."
That plan evidently worked. The Explorers scored a total of 106 goals on the season.
"I felt as if I was a leader on the team," he said, "but I'm really thankful I had the opportunity to be in that spot to be able to lead and have my teammates trust in me to take on such an honorable role."
Marquette coach Brian Hoener said Paniagua's versatility was key to the team's success.
"Myles had a tremendous year for us," Hoener said. "He was dangerous in every facet at the game, scored on set pieces, scored through our team build up, scored by making individual plays, helped in our possession and initiated our defense."
The Explorers, who won the Gateway Metro Conference championship, faced a rugged non-conference schedule that included several Class 3A and Class 2A teams, some with enrollments of more than 1,000 or even 2,000 students. MCHS had an enrollment of 426 students last school year.
Marquette more than held its own against that heady competition. Among the Explorers' victories were wins over Class 3A teams Granite City and Belleville East and eventual Class 2A state runner-up Chatham Glenwood. Even their losses were impressive in some instances, including 2-1 defeats to 3A teams Alton and Edwardsville and a 4-2 defeat at the hands of 3A O'Fallon in the season opener.
Because of the IHSA's success multiplier, Marquette was moved to Class 2A last season. That meant a showdown with defending Class 2A state champion Triad in the Triad 2A Regional Tourney's championship game. The Explorers lost 4-2.
"The season didn't end as we had hoped it would," Paniagua said. "Losing to a great Triad team was hard, but you can't just focus on that. During the season, we beat a very good Belleville East team. Earlier in the season, we beat Chatham Glenwood, who turned out to be the No 2 team in the state in 2A. 
"We were never out of any game we played."
Paniagua didn't hide in games against the larger schools on the schedule. He scored two goals against Glenwood, had two goals and an assist in two games against Triad, scored a goal against Edwardsville, three against Highland and had a goal and an assist against O'Fallon.
"Myles showed up in big moments for us," Hoener said, "and he made a lot of big plays throughout the year to help us to have a successful year."
Paniagua played for three different head coaches during his prep career at Marquette. As a freshman, Tim Gould's only season as MCHS coach resulted in Class 1A state runner-up finish. Then came two challenging COVID-affected seasons during calendar year 2021 under Jerry DiSalvo, followed by his senior season under Hoener.
"From freshman year to senior year, learned a lot," Paniagua said, "not just about soccer, but about life."
Getting within a victory of the state championship as a freshman helped him put it all in perspective.
"Coming in my freshman year," he said, "I didn't know much about high school soccer, but Coach Gould was a great coach. I'm very thankful I had  had him my freshman year. He taught me a lot. Going to that state championship game and even playing in it as a freshman was a feeling I can't even compare to anything.
"Sophomore year, we had the pandemic and although we had great players, we didn't have a postseason (because of COVID), so we were just playing to be better than we were the day before. It disappointing, because we will never know how good we would have been in the postseason.
"My junior year was tough because I personally was battling injures and was out for most of the season, but coming back and losing to Highland in the regional was a tough pill to swallow. What I learned from that is to never look past anyone in playoff soccer.
"Senior year, the team was very determined to work hard every day and play with high intensity in every situation. Having a team of mostly seniors gave us that brotherhood bond, in my opinion. I think that's why we worked so hard for each other. It was truly an unforgettable year."
Looking back, Paniagua said he's been fortunate with the club soccer coaches he's had as well.
"I played for Alton United up until I was 14, then switched to Alton Irish," he said. "With Alton United, my coach my Eric Zyung who's the CM girls coach and Coach (Ryan) Anderson was my Irish coach. I was in great hands with both of these coaches over the years and I wouldn't be where I am now without them."
Where Paniagua is now is preparing for a college soccer career that will get under way next month at Southwestern Illinois College in Belleville.
"I made the decision to go to SWIC because I thought it was best for me," he said. "Meeting with Coach 'Z' (Alton native Lindsay Kennedy Eversmeyer) and just getting to know her and her knowledge about the game, I thought was great. I'm very exited to continue my soccer journey, especially with a few of my teammates."
Hoener led Explorers to 17 wins vs. tough slate
Hoener led Explorers to 17 wins vs. tough slate
PREP YEAR IN REVIEW: Small School Boys Soccer Coach of the Year Brian Hoener, Marquette Catholic
Pete Hayes, 
Sports Editor.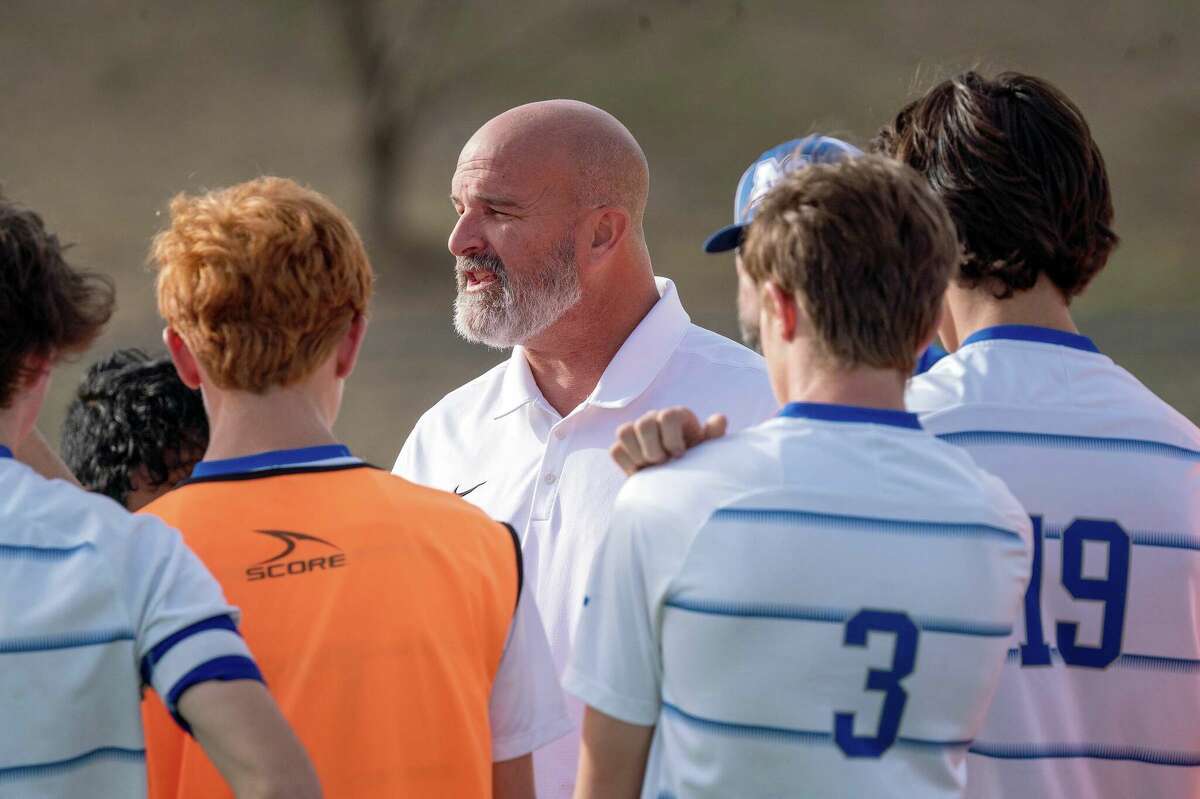 ALTON - As athletic director at Marquette Catholic High School, Brian Hoener oversees every sport the school has to offer. 
As the Explorers soccer coach, Hoener is in his happy place. 
That was made pretty clear when Hoener, in his first season as boys soccer coach at MCHS, guided the Explorers to a 17-6 record playing a formidable schedule and facing a Class 2A postseason.
"I was thrilled with how our season played out," Hoener said. "We play a very difficult schedule with the likes of O'Fallon Chatham Glenwood, Alton Granite City, Edwardsville, Triad, Columbia, Althoff, Belleville East Waterloo.
"So, to find a way to get 17 wins is a heck of an accomplishment."
Guiding the Explorers to that accomplishment has earned Hoener The Telegraph Small Schools Boys Soccer Coach of the Year award.
Some of the schools Hoener mentioned are Class 3A schools with enrollments of more than 2,000 students, while Marquette Catholic High sits at about 425 students. Because of the IHSA's success multiplier, the Explorers played "up" a class in 2022 in Class 2A.
But none of that is new for Marquette or for Hoener, who has also been the school's girls soccer coach since 2017. Call it the Marquette way.
The Explorers boys soccer team had winning streaks of six and five games during the 2022 season. They went 6-0 in the Gateway Metro Conference and rolled to the league crown. 
While Marquette's postseason was short-lived, it had Explorers fans on the edge of their seats. After dispatching rival Jersey 6-1 in the Triad 2A Regional semifinals, the Explorers went toe-to-toe with defending 2A state champion Triad before bowing 4-2 in the regional championship game. And that was just three weeks after Triad had downed Marquette 6-1 in a regular-season game.
 "Even losing in a regional championship game to a very good Triad team, we were in the game up until the very final moments," Hoener said. "I just thought we played very good soccer all year and competed in almost every game. It was a great group to coach."
Hoener, who became athletic director in 2020, took over last season as Marquette boys soccer coach for Jerry DiSalvo, who resigned after two seasons. It was his third hat to wear at Marquette and it was one that fit.
"I think the school is looking for consistency in the boys soccer program," Hoener said when he assumed the boys soccer coaching position. "There has been a lot of turnover in the coaching position the last five to six years."
The 2022 Marquette seniors who were on the team four years played for three different head coaches during that span.
Joe Burchett coached the Explorers for three seasons, 2016, 2017 and 2018. He led them to the IHSA Class 1A state championship in 2017.
Tim Gould took over for one season in 2019 and coached Marquette to a second-place finish at the state tournament. DiSalvo coached Marquette during the 2020 COVID season that was played in abbreviated form during the spring of 2021. He also coached the Explorers in the 2021 traditional fall season.
"It's really asking a lot of the players and their families to adjust to new ways of doing things so many times in such a short period," Hoener said when he took the boys post. "I think we owe it to the students to show them that that is not the norm."
He apparently did. Just ask 2022 Small School Boys Player of the Year Myles Paniagua of the Explorers.
"Coach Hoener was a great coach," Paniagua said, "especially stepping in to fill the coaching spot, he did a great job. He knew what our team was capable of and pushed us to be the very best we could. There was no slacking at practice or in a game. He knew the game and his players very well."
Hoener played high school and college soccer for a pair of legendary coaches. He prepped at McCluer North under Coach Ray Stahl and played at Lewis and Clark Community College for Tim Rooney. He also played two seasons at Fontbonne University.
"Being trained by two coaching legends has helped me a lot," Hoener said. "Coach Stahl and 'Roons' taught me the right way to play and coach the game."
When he arrived at Marquette as girls soccer coach, he continued in his role as women's soccer coach at Fontbonne. He gave up the college position when he was hired as the Marquette athletic director.
Hoener also coached the men's soccer team at Fontbonne for a number of years.
"I started my career as a men's coach at Fontbonne," Hoener said, "I was men's coach first and  I have experience at coaching both genders and during the same season. I'm comfortable with doing that."
Even though the tough Marquette schedule was responsible for some of the team's defeats, Hoener said it's all part of the Marquette soccer way.
"Our schedule included two 3A regional champions, one 3A sectional champion, the 2A state runner up, 2A sectional champ,  2A regional champ and the 1A state runner up.
"Historically, we are Class 1A school," he said. "We were playing up in 2A last year, but we'll be returning to 1A next year."
HEAD COACH
Brian Hoener
Assistant Coaches
Brett Keller
Caleb McClintock
Terry Morris
2021 Gateway Metro All-Conference Team
Dre Davis, Jr.
Ethan Eddy Sr.
Charlie Fahnestock Jr
Cody Miller Sr.
2019 IHSA 2nd Place
2018 IHSA All State team
Chris Hartrich,Sr.
Forward
Nick Hemann,Sr.
Goalie
Stephen Hasse,Sr.
Mid-Field
IHSA Class 1A
2017 State Champions
2017 All-Metro Boys Soccer
1st Team
Aaron Boulch, So
Forward
20 goals-14 Assists
2017 All-Metro Boys Soccer
3rd Team
Nick Hemann, Jr
Goalie
Alton Telegraph Small School
Player of the Year
Chris Hartrich, JR
2012 State Champions
IHSA Class 1A
SENIOR NIGHT 2023