Kline more than a 'physical sniper from deep' for Marquette
PREP YEAR IN REVIEW: Small-Schools Boys Basketball Player of the Year Braden Kline of Marquette Catholic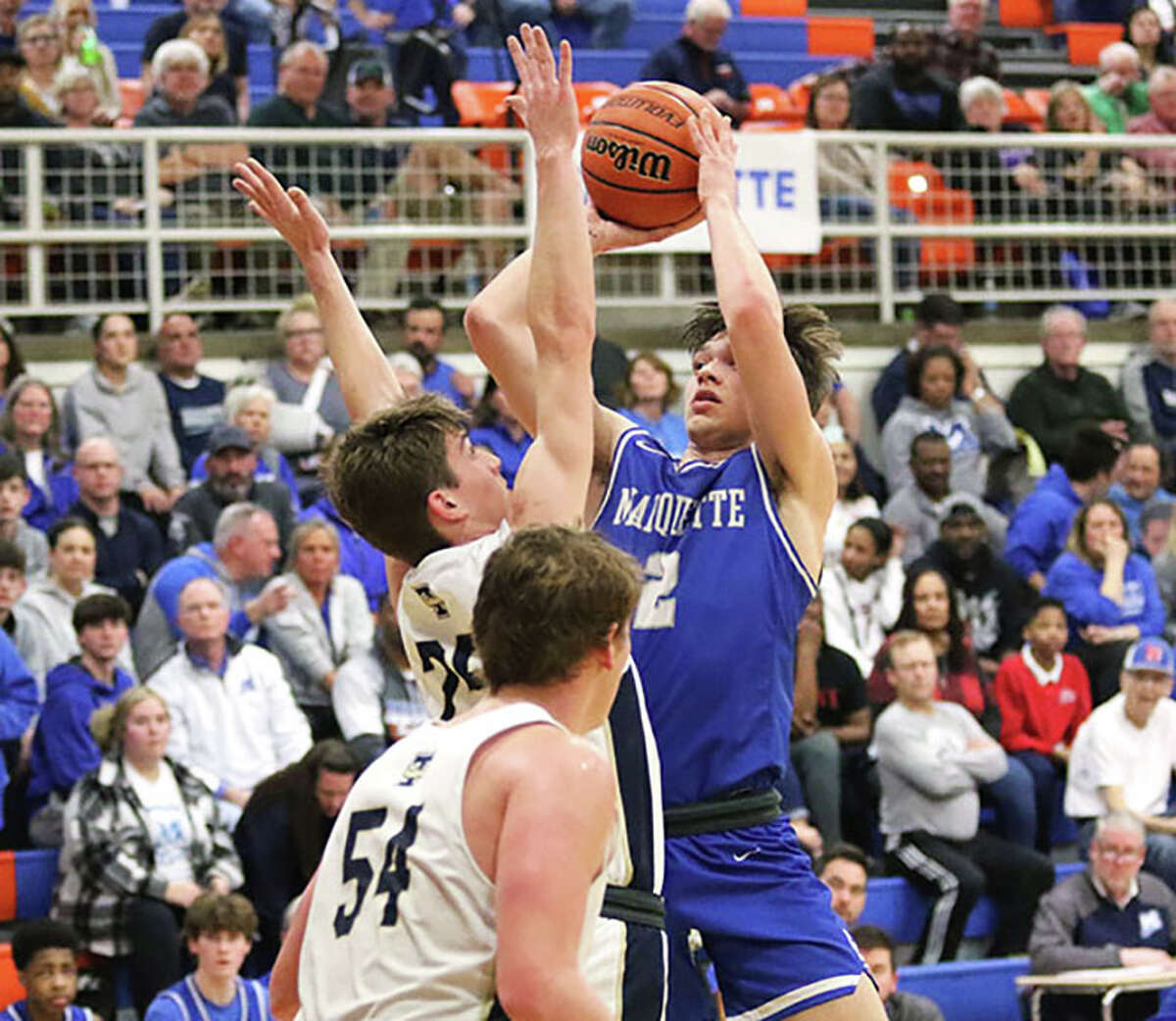 ALTON – Braden Kline was not the author, but he knows the book on Braden Kline.
"I'm definitely labeled as a shooter," he said.
The book is not wrong. It's a consensus opinion, Kline is a shooter.
"Big and physical sniper from deep," wrote on college basketball scouting service after seeing Kline on the AAU summer circuit. "Kline has been excelling in his catch-n-shoot actions. He's relentless in the paint area with an efficient mid-range jumper, and already a college level passer. Defensively, Kline plays great help side defense, and is a relentless rebounder."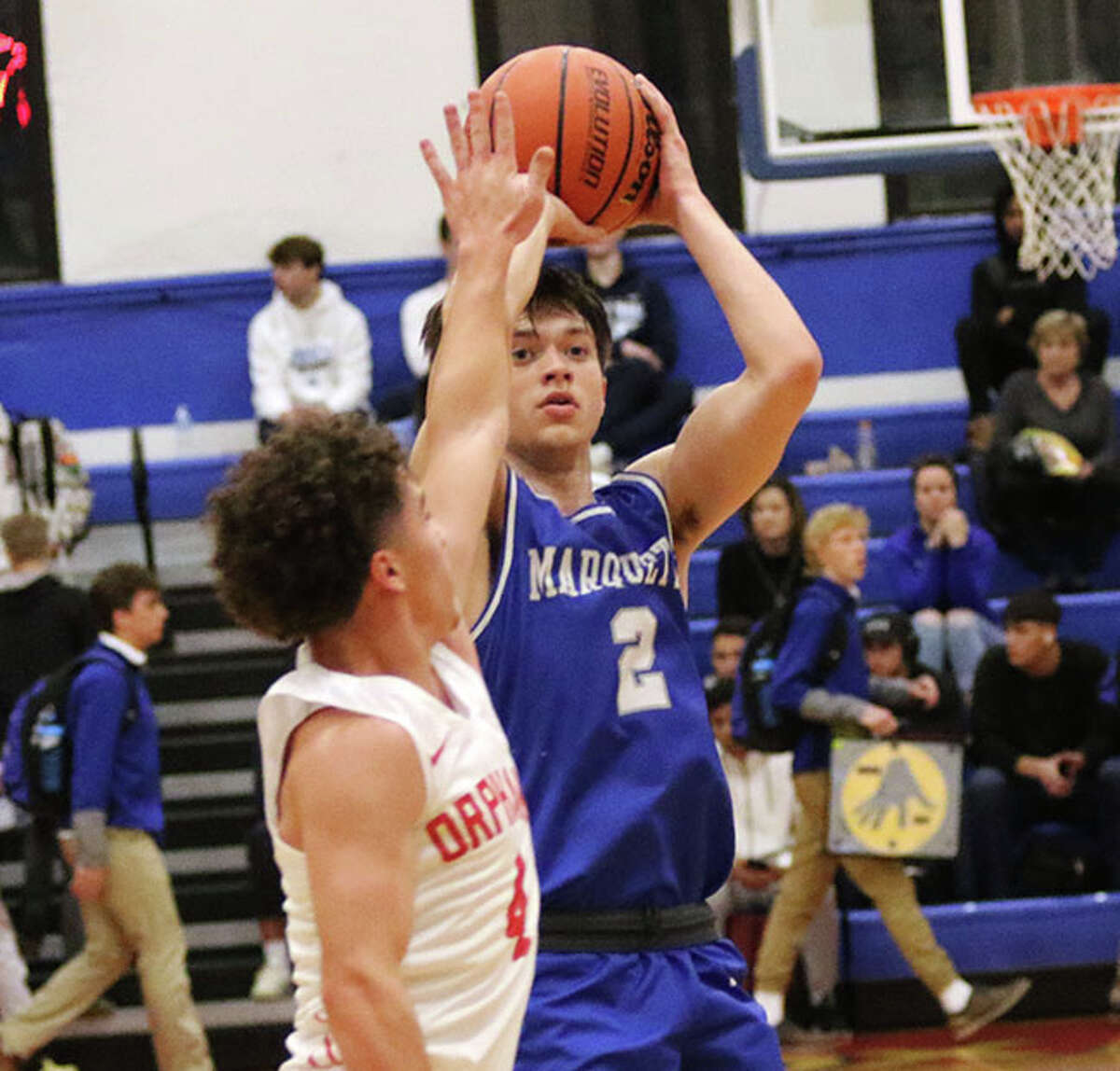 His talent beyond catch-n-shoot sniper from deep made Kline the 2022-23 Telegraph Small-Schools Basketball Player of the Year as a junior for the Marquette Catholic Explorers. And the 6-foot-3 guard who made 103 3-pointer while shooting 44 percent from the arc for a 21-13 Marquette team is providing more material for the book on Braden Kline.
"There are other aspects of my game," Kline said, "like my defense and just being able to get to the rim, that I've been working on to be a more well-rounded player, definitely."
Kline was a sophomore starter, averaging 8.7 points per game as the understudy for senior Owen Williams, a 3-point shooter with the athleticism to slash to the basket. Williams averaged 14 points a game and was the 2021-22 Telegraph Player of the Year.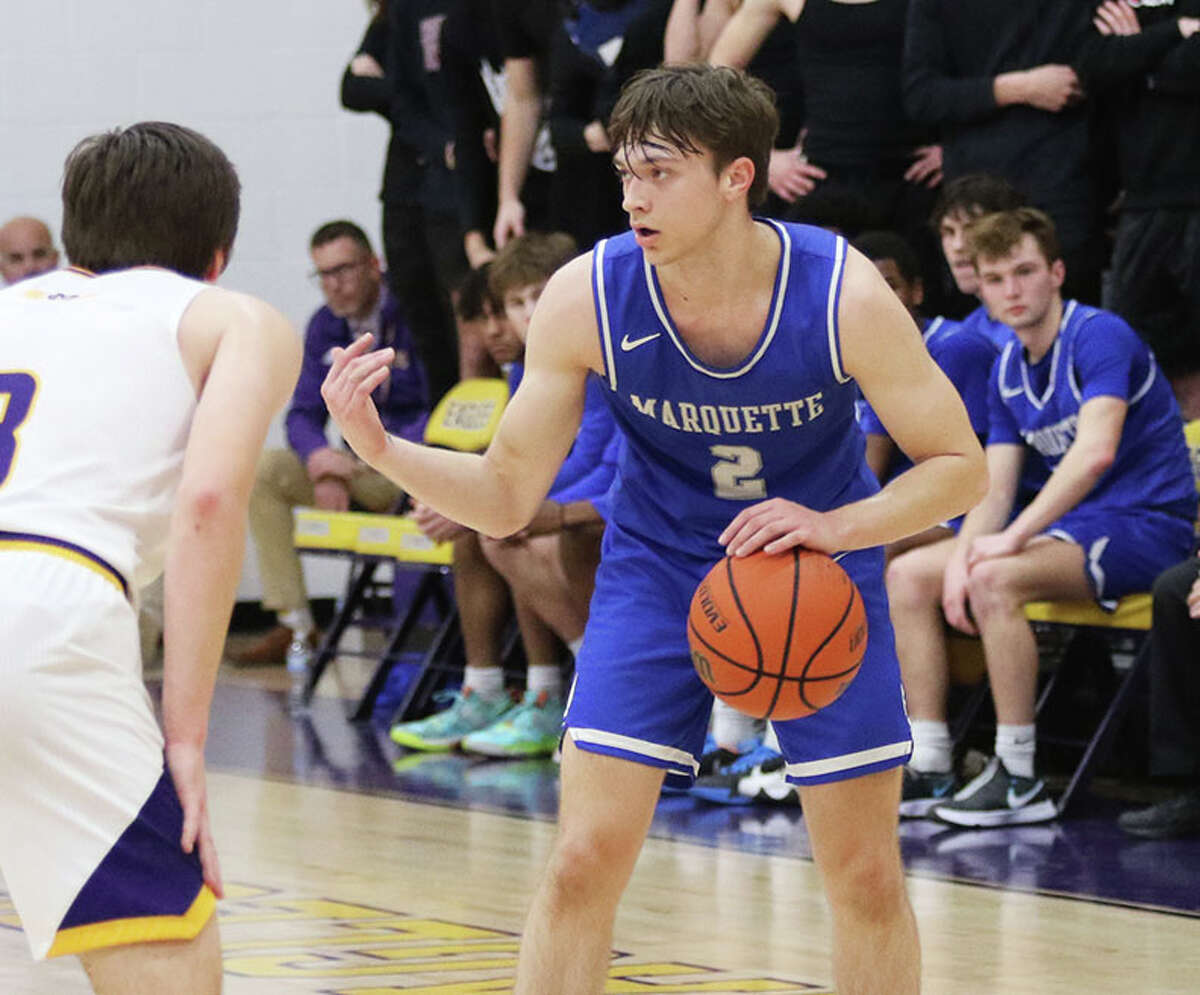 "Owen was great player and I think he and I have some similarities," Kline said. "I knew I was going to have to step up and fill his shoes, a little bit."
Kline had the feet and talent that proved up to the job immediately as a junior, scoring 21 points a game while converting 18 of 35 shots from 3-point range in Marquette's 3-1 start at the season-opening Roxana Hoopsgiving Classic.
That set the path for a winter that saw Kline average 15.1 points per game to lead the Explorers to a 20-win season with Gateway Metro Conference and Class 2A regional championships before a sectional semifinal defeat to Teutopolis.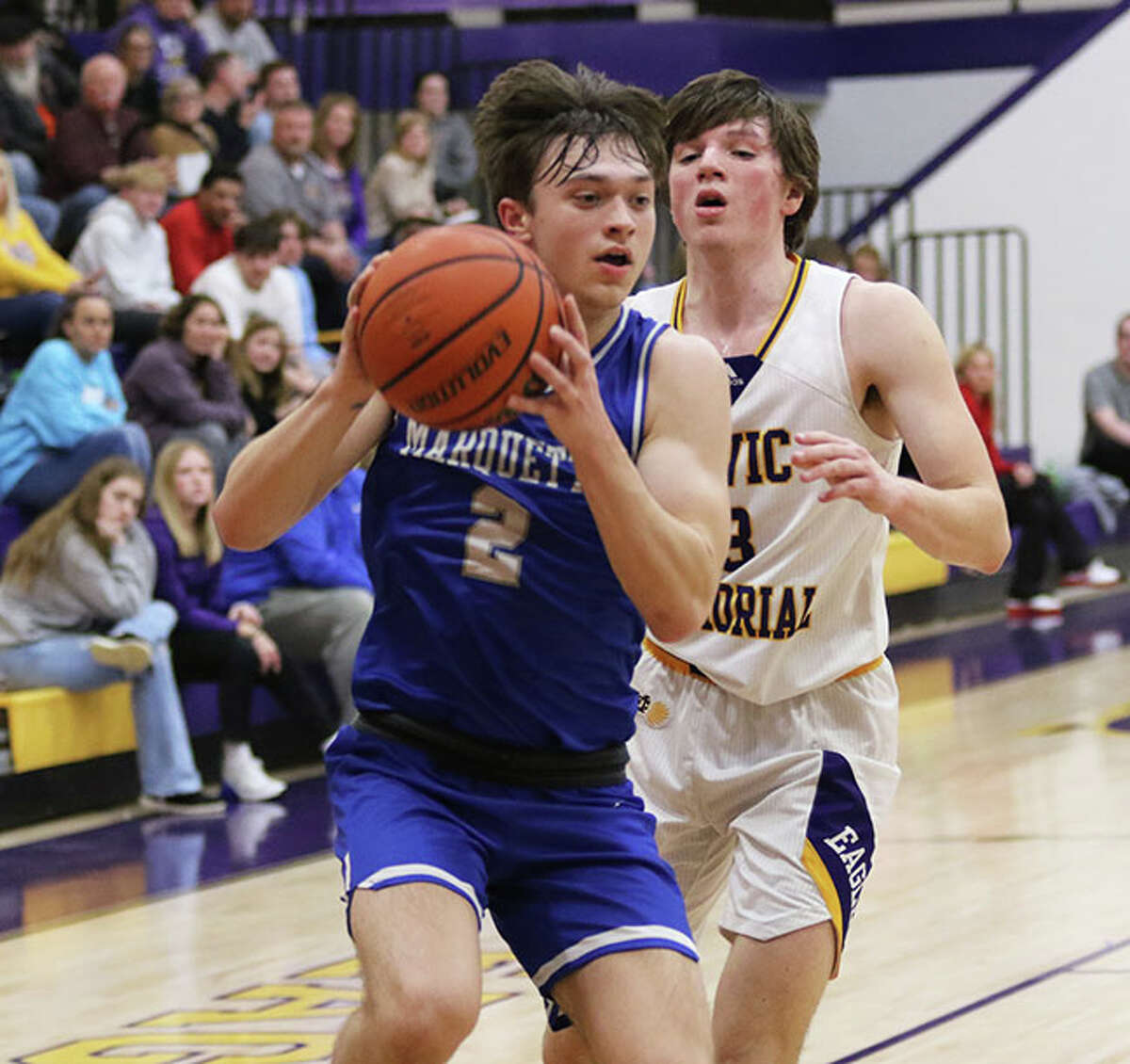 "Overall, it was a pretty good season for us," Kline said. "We got 20 wins, which is always nice. We won a regional. Sectionals didn't go as we wanted, but it was a good year. Cody Best, it was his first year as coach and I thought he did a very good job."
Brad Kline, an assistant under Steve Medford at Marquette, stayed on staff as a coach under Best. Brad Kline was a starter for Alton Redbirds boys basketball as a senior in 1990, but his son wears the blue of Marquette Catholic.
"Both my parents went to Alton. Both of my sisters went to Marquette," Braden Kline said. "For basketball reasons, and academically, this was a better fit for me. I grew up in the Alton school district, but Marquette ended up being the best place for me."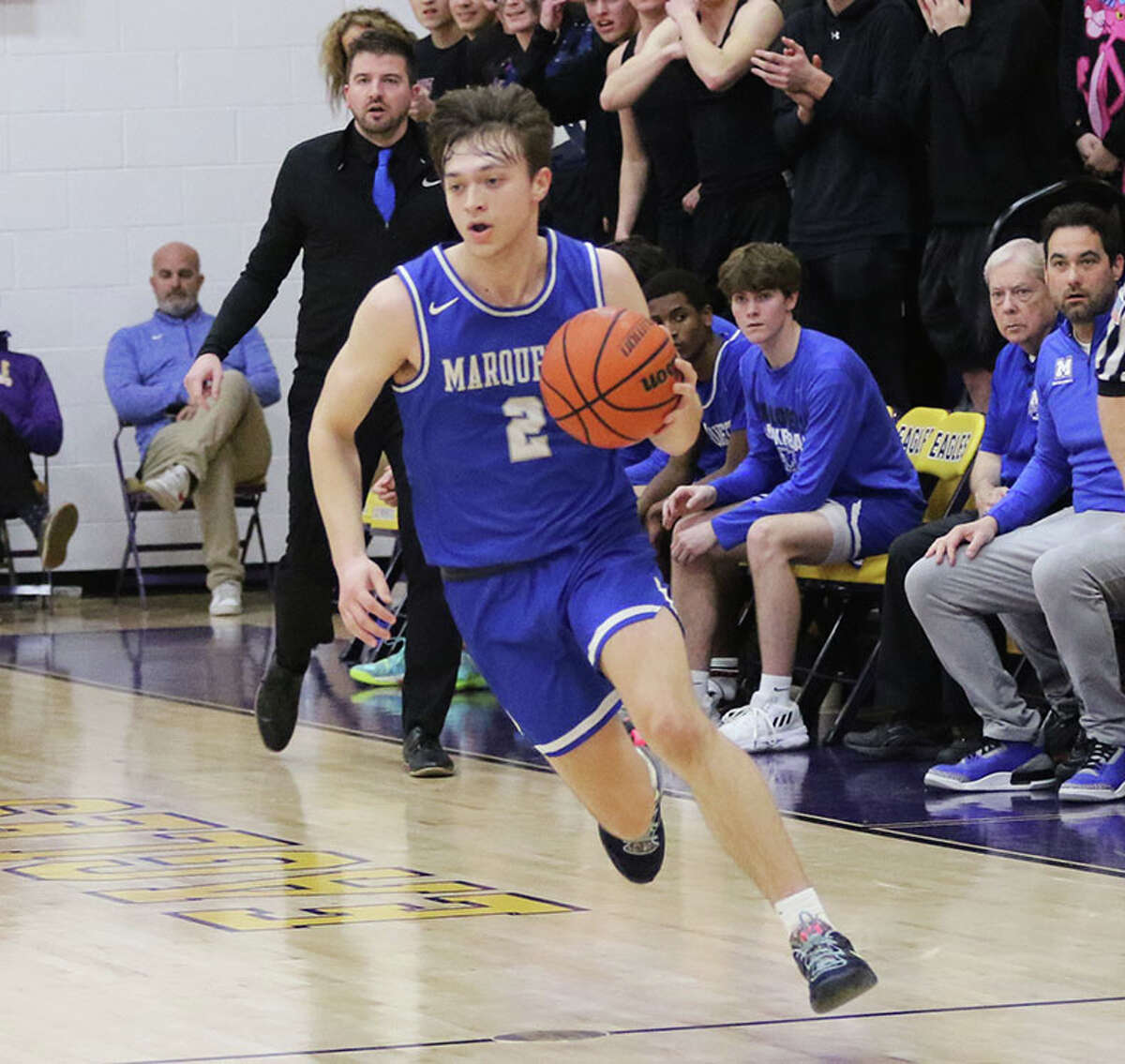 Kline played baseball up to middle school and ran track as a freshman at Marquette. But it's all basketball now. Really, it has been since he started competitive basketball in third grade. "I've been playing ever since," Kline said.
Whether he was good from his first start as 8 year old, Kline cannot confirm
"It's all a blur for me really, I've played so much over the years," he said with a laugh. "But, yeah, I'd like to think so."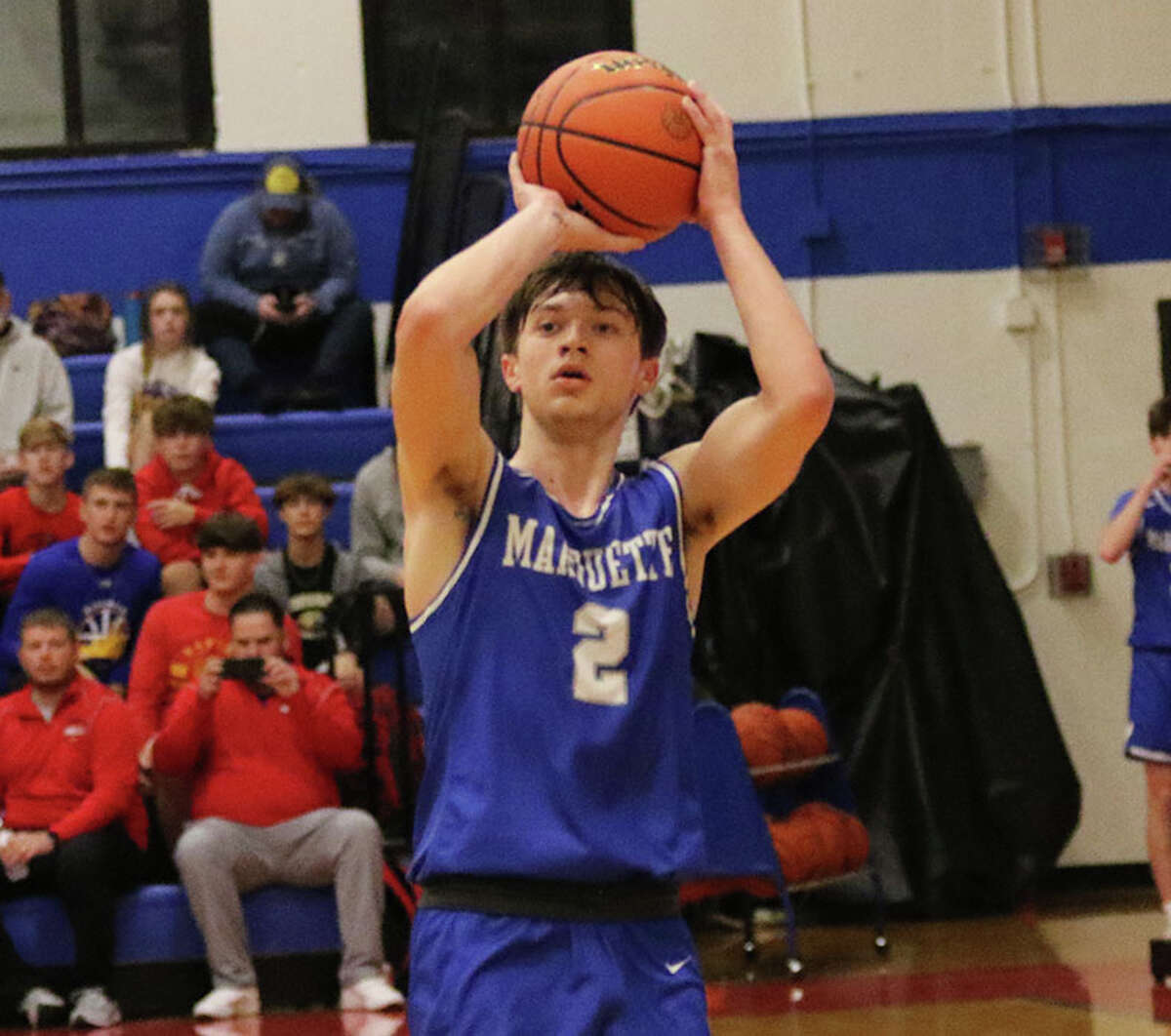 Marquette coach Cody Best did not see the grade-school version of Braden Kline. But he likes what he sees when his Marquette sharpshooter gets hot.
"You never know when he's going to get going," Best said after a game last season. "He's just one of those guys, if he sees one go in, there's going to be more coming. He's got the green light, from everywhere."
Kline saw a career-high eight 3-pointers go in while lighting up the Jersey Panthers for a career-high 31 points at Roxana's Thanksgiving Tourney. Kline went 8 of 10 from the arc against the Panthers.
"Braden Kline, he's very dangerous when he's like that," Best said. "Tonight, he didn't miss. And we'll be pretty tough to beat whenever Braden Kline can shoot like that."
Kline and the Explorers will be hoping for more nights like that this winter. Kline is back, but Marquette graduated four of its first six players, including 10 points a game from point guard Parker Macias and nine points a game from forward Kendall Lavender.
"We do lose a lot, but I think we have a good core with our five seniors and a couple players contributing off the bench," Kline said. "I definitely think we can reach 20 wins again and, hopefully, go even further in the playoffs."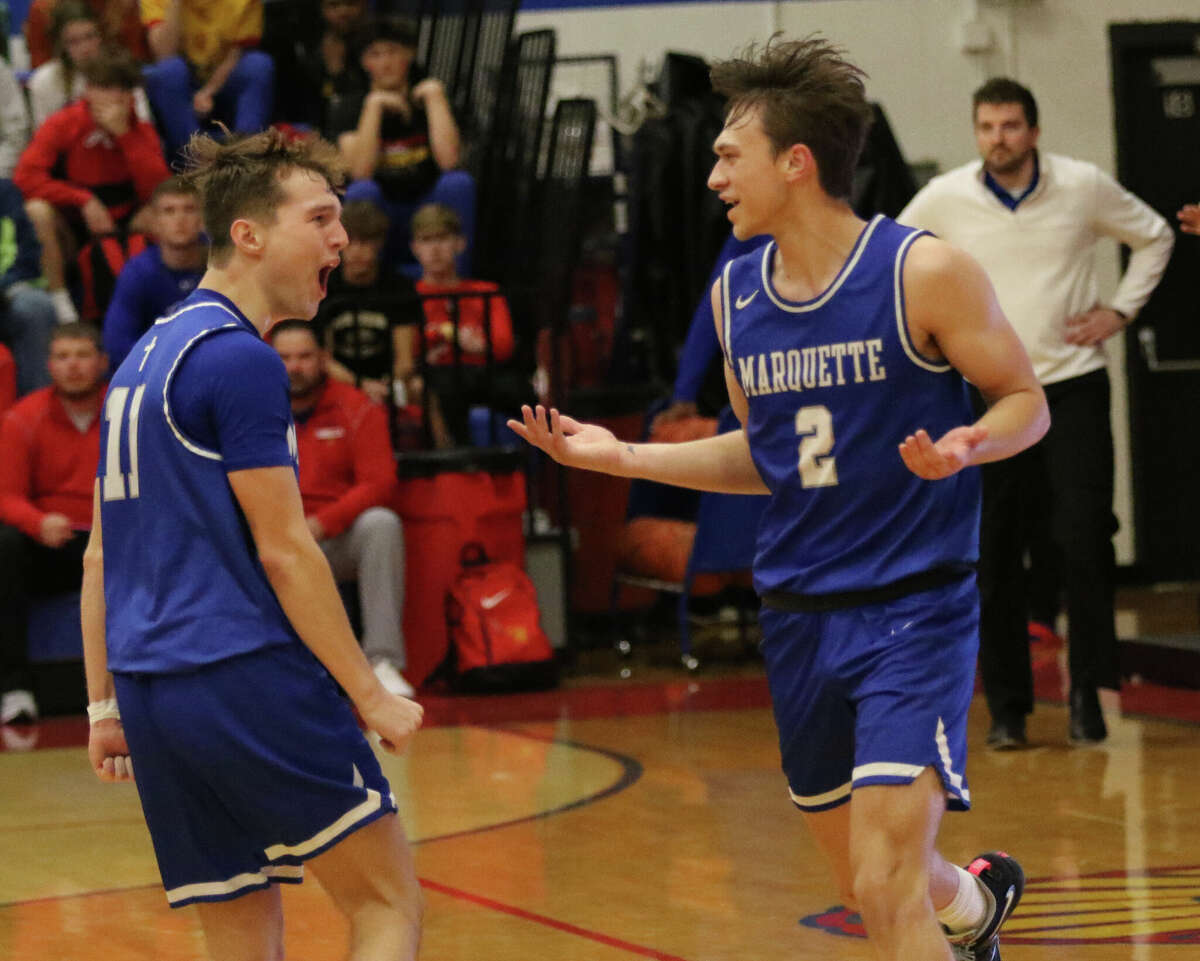 Kline hits his senior season with 782 career points and figures to be the first Explorer to eclipse 1,000 points since Shandon Boone in 2016. But Kline wants to do more than score. He wants lead like some of the Explorers he watched growing up.
"I have to be a leader on this team," Kline said. "It's my senior year, which is crazy to me. I remember coming to games and watching guys like Sammy Green and a lot of others. It was cool to watch them play and now I'm where they are."