Best proved to be 'up to the challenge' with Explorers
PREP YEAR IN REVIEW: Small-Schools Boys Basketball Coach of the Year Cody Best of Marquette Catholic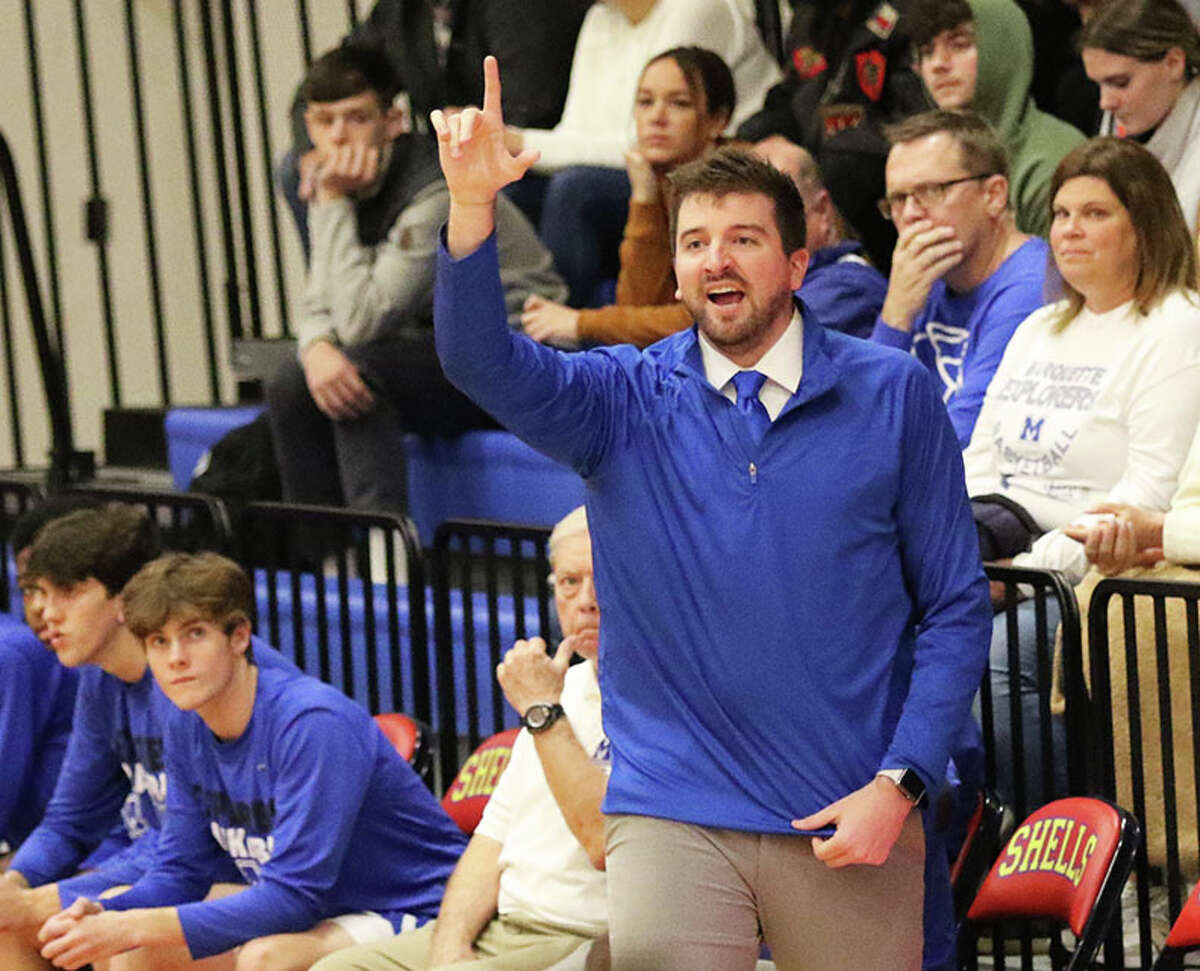 ALTON – Marquette Catholic Explorers boys basketball introduced its 31-year-old hire as new coach in June 2022.
"It's definitely a lot of pressure," Cody Best said a year ago when he took charge of team that averaged 25 victories a season in the previous decade. "It's one of those programs that wins every year. I'm up for the challenge."
He was. And at age 32, Cody Best is the 2022-23 Telegraph Small-Schools Boys Basketball Coach of the Year. In Best's first season, Marquette finished 21-13, won its first Gateway Metro Conference title and claimed a regional championship for the 10th time in 13 seasons.
"Overall, we hit our goals, winning the conference as co-champions, we ended up with 21 wins, we ended up winning a regional," Best said after a season-ending defeat to Teutopolis in the Newton Class 2A Sectional semifinals. "Our guys had their own goals. I gave them my goals for them and they got those as well. We've got nothing to hang our head about. We've got to get back to it and, hopefully, we'll be back here again next year."
The sectional appearance did not go as hoped for the Explorers. T-Town rolled out leads of 25-2 and 34-5 and played out the string in the second half of a 54-28 victory. The Wooden Shoes were up 29 points at the half, when the game plan changed for the Explorers.
"It's not about the X's and O's anymore," Best said of the halftime adjustments after the game. "It's just about coming out fighting and showing some heart. Trying to make it respectable. Credit to the four seniors, that's what they did."
The Explorers graduated four of their top six players from a team that closed the season by winning nine of its last 11 games. The Explorers also extended their postseason run of Class 2A regional victories to 18 games in row. Marquette's only regional defeats in the last 14 years came in the Class 3A bracket.
The Explorers will look to extend that 2A streak in 2024, with Best back for season No. 2 at Marquette and No. 5 ½ as a head coach. Best spent three seasons at Mount Olive with a 12-50 record before two seasons as an assistant at Highland, where he went 6-7 in a 13-game stretch serving as interim varsity coach while Bulldogs head coach Deryl Cunningham was recovering from a kidney transplant.
Last season, Marquette was treading water with a 12-11 record before finding its stroke late in January. The Explorers won nine of 10 games – including victories over state-ranked Centralia CORL to earn a share of the GMC crown and eventual Class 1A state champion Waterloo Gibault – to reach 20 victories for the sixth time in the last seven full seasons.
Marquette must replace graduated seniors Parker Macias, Kendall Lavender, Jack Spain and Dre Davis, but will rebuild around rising seniors Braden Kline and Jaden Rochester. Best was already looking to 2024 before his team left Newton after the sectional in March 1.
"We've got an inside guy and outside guy to build around," said Best, whose deep 2024 class also features varsity-tested players in Sean Williams and Jaylen Cawthon. "Our JV team was very dangerous. Those guys, they can be good. It's going to come down to who's going to work in the summer and who's not going to work in the summer. But we've got a great group of juniors, for sure."