Hoener led Explorers to 17 wins vs. tough slate
PREP YEAR IN REVIEW: Small School Boys Soccer Coach of the Year Brian Hoener, Marquette Catholic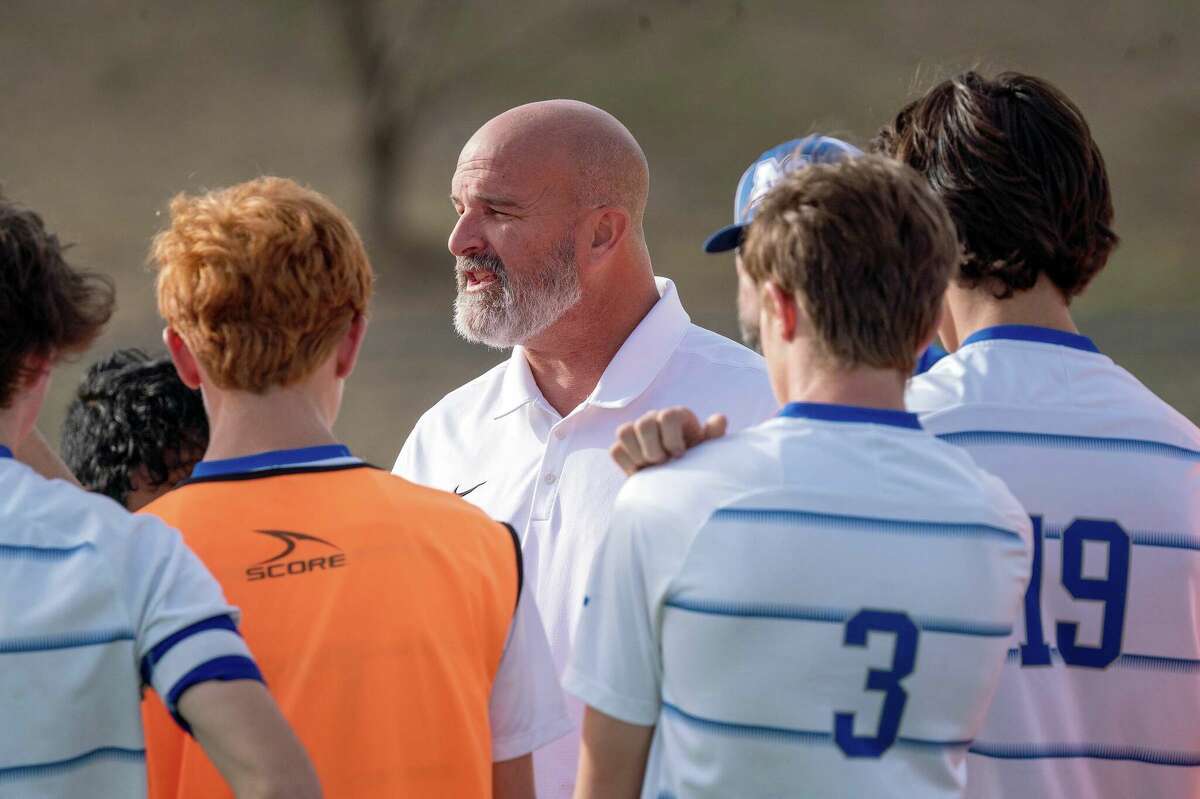 ALTON - As athletic director at Marquette Catholic High School, Brian Hoener oversees every sport the school has to offer.
As the Explorers soccer coach, Hoener is in his happy place.
That was made pretty clear when Hoener, in his first season as boys soccer coach at MCHS, guided the Explorers to a 17-6 record playing a formidable schedule and facing a Class 2A postseason.
"I was thrilled with how our season played out," Hoener said. "We play a very difficult schedule with the likes of O'Fallon Chatham Glenwood, Alton Granite City, Edwardsville, Triad, Columbia, Althoff, Belleville East Waterloo.
"So, to find a way to get 17 wins is a heck of an accomplishment."
Guiding the Explorers to that accomplishment has earned Hoener The Telegraph Small Schools Boys Soccer Coach of the Year award.
Some of the schools Hoener mentioned are Class 3A schools with enrollments of more than 2,000 students, while Marquette Catholic High sits at about 425 students. Because of the IHSA's success multiplier, the Explorers played "up" a class in 2022 in Class 2A.
But none of that is new for Marquette or for Hoener, who has also been the school's girls soccer coach since 2017. Call it the Marquette way.
The Explorers boys soccer team had winning streaks of six and five games during the 2022 season. They went 6-0 in the Gateway Metro Conference and rolled to the league crown.
While Marquette's postseason was short-lived, it had Explorers fans on the edge of their seats. After dispatching rival Jersey 6-1 in the Triad 2A Regional semifinals, the Explorers went toe-to-toe with defending 2A state champion Triad before bowing 4-2 in the regional championship game. And that was just three weeks after Triad had downed Marquette 6-1 in a regular-season game.
"Even losing in a regional championship game to a very good Triad team, we were in the game up until the very final moments," Hoener said. "I just thought we played very good soccer all year and competed in almost every game. It was a great group to coach."
Hoener, who became athletic director in 2020, took over last season as Marquette boys soccer coach for Jerry DiSalvo, who resigned after two seasons. It was his third hat to wear at Marquette and it was one that fit.
"I think the school is looking for consistency in the boys soccer program," Hoener said when he assumed the boys soccer coaching position. "There has been a lot of turnover in the coaching position the last five to six years."
The 2022 Marquette seniors who were on the team four years played for three different head coaches during that span.
Joe Burchett coached the Explorers for three seasons, 2016, 2017 and 2018. He led them to the IHSA Class 1A state championship in 2017.
Tim Gould took over for one season in 2019 and coached Marquette to a second-place finish at the state tournament. DiSalvo coached Marquette during the 2020 COVID season that was played in abbreviated form during the spring of 2021. He also coached the Explorers in the 2021 traditional fall season.
"It's really asking a lot of the players and their families to adjust to new ways of doing things so many times in such a short period," Hoener said when he took the boys post. "I think we owe it to the students to show them that that is not the norm."
He apparently did. Just ask 2022 Small School Boys Player of the Year Myles Paniagua of the Explorers.
"Coach Hoener was a great coach," Paniagua said, "especially stepping in to fill the coaching spot, he did a great job. He knew what our team was capable of and pushed us to be the very best we could. There was no slacking at practice or in a game. He knew the game and his players very well."
Hoener played high school and college soccer for a pair of legendary coaches. He prepped at McCluer North under Coach Ray Stahl and played at Lewis and Clark Community College for Tim Rooney. He also played two seasons at Fontbonne University.
"Being trained by two coaching legends has helped me a lot," Hoener said. "Coach Stahl and 'Roons' taught me the right way to play and coach the game."
When he arrived at Marquette as girls soccer coach, he continued in his role as women's soccer coach at Fontbonne. He gave up the college position when he was hired as the Marquette athletic director.
Hoener also coached the men's soccer team at Fontbonne for a number of years.
"I started my career as a men's coach at Fontbonne," Hoener said, "I was men's coach first and I have experience at coaching both genders and during the same season. I'm comfortable with doing that."
Even though the tough Marquette schedule was responsible for some of the team's defeats, Hoener said it's all part of the Marquette soccer way.
"Our schedule included two 3A regional champions, one 3A sectional champion, the 2A state runner up, 2A sectional champ, 2A regional champ and the 1A state runner up.
"Historically, we are Class 1A school," he said. "We were playing up in 2A last year, but we'll be returning to 1A next year."