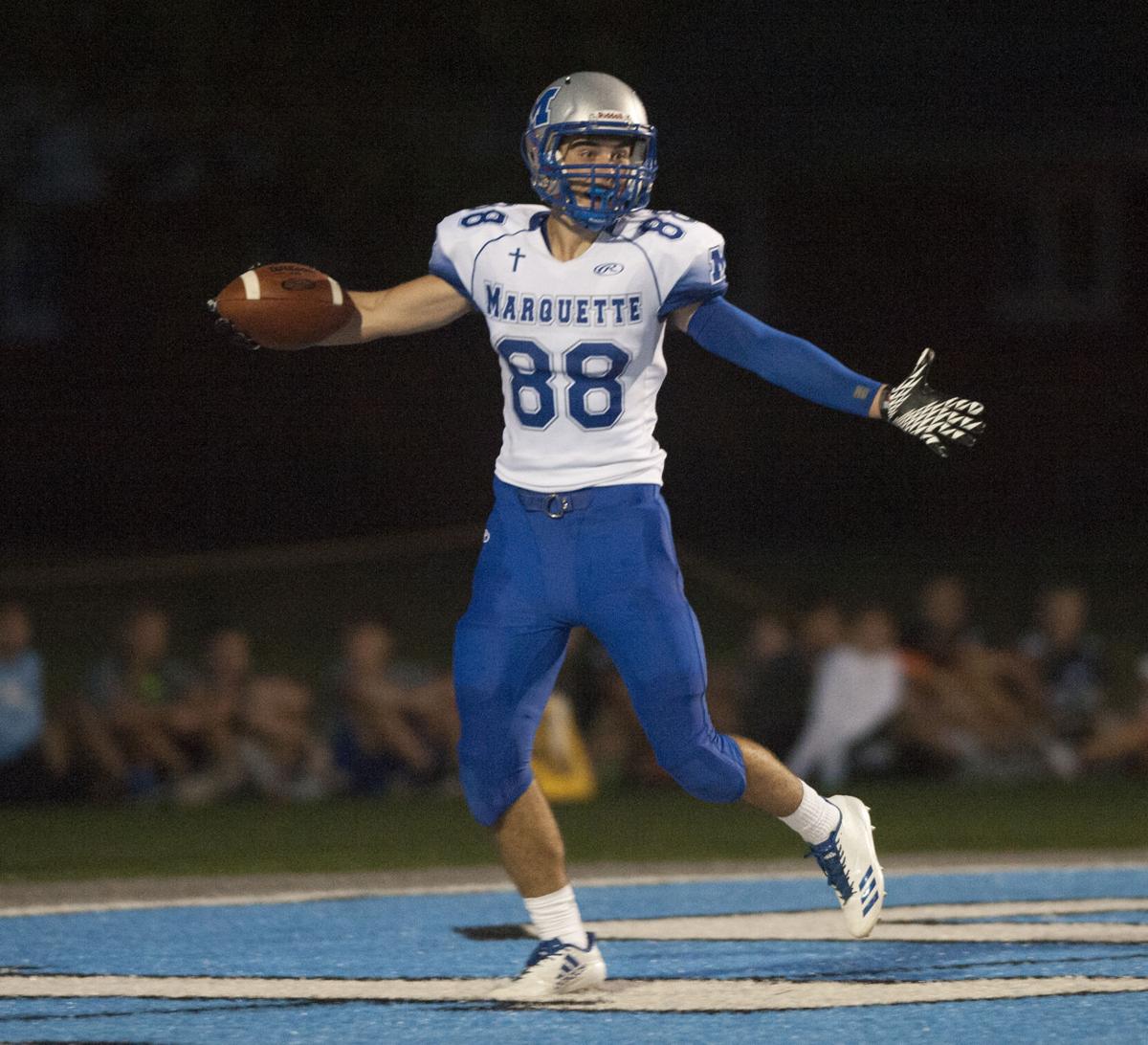 BREESE • Alton Marquette senior John Blachford said he was wary of Mater Dei's passing attack.
Blachford had seen enough film of it and witnessed first-hand how potent it was last season.
"We worked really hard (in practice) and it really paid off," Blachford said.
Alton Marquette stifled Mater Dei for an 18-0 victory, allowing only 103 total yards after surrendering 176 through the air to Mater Dei in last season's meeting.
This is the first time since 2011 that Alton Marquette has started the year 2-0 after starting the last four seasons 0-2. Alton Marquette beat Civic Memorial in the first week of the season, 21-7.
"It feels amazing," Alton Marquette's D'Avion Peebles said. "There was a lot of dedication in the offseason. We've got a chance to go 9-0, but we had to face two big schools in our first two games so we knew we had to step up."
The Explorers harassed Knights quarterback AJ Albers each time he dropped back to pass.
Alton Marquette's defense held Mater Dei to 75 yards in the first half but then really went to work in the second half with four interceptions and only 28 yards allowed. Mater Dei's only first down of the second half came with 30 seconds left to play.
"We really studied their passing play," Peebles said. "We've really worked hard on that. We knew that they had a lot of amazing players."
While he had a lot of faith in his defense, Explorers coach Darrell Angelton didn't expect a shutout of the Knights.
It was the first time Mater Dei had been blanked since losing 47-0 to Sacred Heart-Griffin on Oct. 14, 2011.
Mater Dei (1-1), the No. 8 ranked small school in the STLhighschoolsports.com rankings, shot itself in the foot multiple drives with penalties.
The Knights committed nine penalties for 80 yards in the game.
"They played a clean ball game," Mater Dei coach Jim Stiebel said. "We just didn't earn it. We couldn't do anything with the ball offensively. Every time we would, we'd spot a holding penalty or our receiver would jump offsides. We'd just self-destruct. That's what it felt like."
The defense gave the Explorers' a short field for their first score of the game.
Alton Marquette's Alex Roberts stripped Albers of the ball to give the ball to his offense on the 12-yard line. After a 6-yard run by Peebles, Aaron Gregory scored on a 6-yard run and Peebles added the two-point conversion for an 8-0 lead midway through the first quarter.
After another defensive stop by Alton Marquette's defense, quarterback Kaleb Ware and the offense only needed one play. Ware found Blachford streaking down the middle of the field for a 52-yard touchdown reception to put the Explorers up 15-0 with 2:55 left in the first half.
"I didn't think I was going to go get the ball," Blachford said. "It was designed to go to the left. I was surprised when I looked up and saw the ball. I happened to have two steps on the defender and caught the ball."
Alton Marquette's Riley Velloff added a 31-yard field goal in the third quarter to push the score to 18-0.